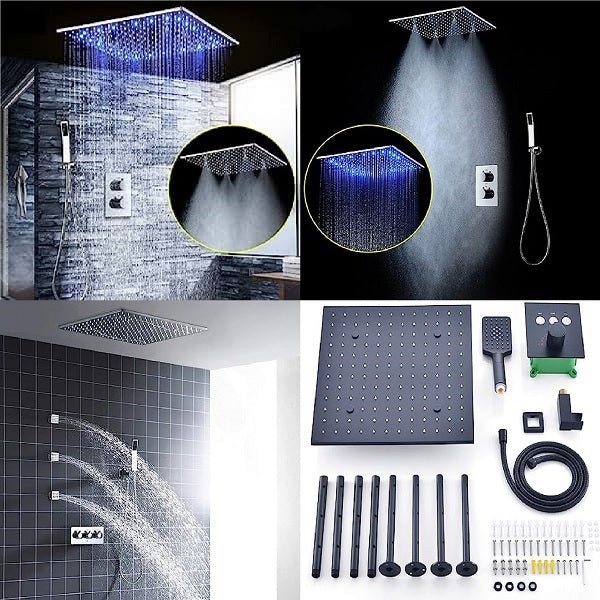 Are you tired of stepping into a shower that's either scorching hot or freezing cold? Say goodbye to unpredictable water temperatures and hello to the ultimate showering experience with our cutting-edge Thermostatic Shower System with a built-in thermostatic valve. Revolutionize your daily routine and indulge in the perfect shower every time.

Discover the Power of Precision:

Our Thermostatic Shower System puts the power in your hands, allowing you to effortlessly adjust the temperature and flow of your shower with unparalleled precision. No more discomfort from sudden temperature changes or struggling to find that sweet spot. Experience a new level of control as you create the ideal showering environment tailored to your preferences.

Unmatched Safety and Reliability:

Safety is paramount, especially when it comes to something as essential as showering. With our advanced thermostatic valve, you can rest easy knowing that the water temperature will remain consistent throughout your shower, regardless of fluctuations in water pressure or temperature. Protect yourself and your loved ones from scalds or chilly surprises—our system maintains the perfect balance for a worry-free bathing experience every single time.

Luxurious Showering Experience:

Indulge yourself in the lap of luxury with our Thermostatic Shower System. Immerse yourself in cascades of perfectly controlled water, providing you with the ultimate spa-like experience in the comfort of your own home. Let the stresses of the day melt away as you surrender to the soothing flow, precisely adjusted to your desired temperature and intensity. It's the perfect way to unwind, recharge, and rejuvenate.

Engineered for Excellence:

Crafted using the highest quality materials and the latest in shower technology, our Thermostatic Shower System is built to last. Our team of experts has meticulously designed every aspect to ensure durability, reliability, and unrivaled performance. Say goodbye to leaks, drips, and maintenance headaches, and say hello to a shower system that will serve you faithfully for years to come.

Easy Installation and Compatibility:

We understand that convenience is key. Our Thermostatic Shower System is engineered for hassle-free installation, allowing you to enjoy its incredible benefits without any headaches. Whether you're upgrading your existing shower or starting fresh, our system seamlessly integrates into any bathroom décor and works with most standard plumbing setups. It's time to elevate your showering experience effortlessly.

Unleash the Potential of Your Shower:

Don't settle for mediocrity when you can have excellence. Upgrade to our Thermostatic Shower System and unlock the true potential of your daily shower. Experience the perfect blend of comfort, control, and indulgence with every drop of water. Say goodbye to ordinary showers and embrace a new standard of luxury in your home.

Act now and seize this opportunity to transform your showering routine. Don't miss out on the chance to experience the pinnacle of comfort and convenience. Order your Thermostatic Shower System today and make every shower an unforgettable experience. Click here.