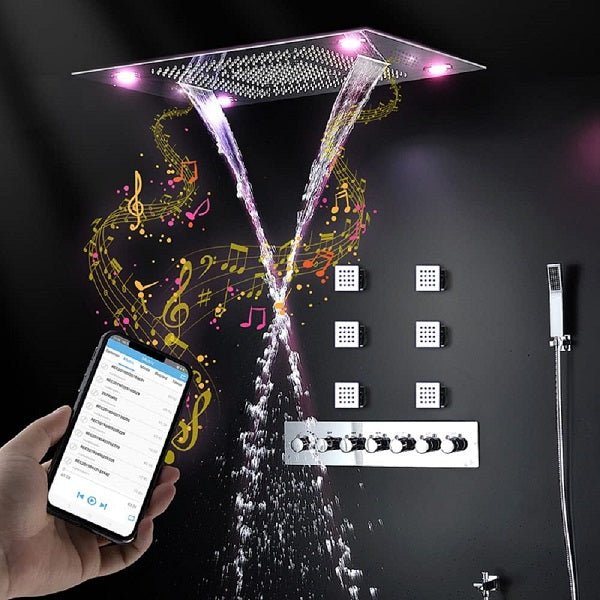 Are you ready to revolutionize your daily showers and experience the ultimate luxury? Introducing the 23"x31" Luxurious Classic Design recessed LED shower system built-in Bluetooth speaker by Cascada Showers. This state-of-the-art shower system offers not just one, but five incredible functions that will take your showering experience to new heights of indulgence.
Immerse yourself in a captivating shower experience with the Rain function, as millions of delicate droplets cascade down from above, enveloping your body in a gentle, soothing embrace. Feel the calmness wash over you as the Mist function creates a misty cloud that caresses your skin, transporting you to a tranquil oasis.
Yearning for the invigorating power of a waterfall? Look no further! Our shower system's Waterfall function delivers a cascading flow of water that mimics the natural beauty of a waterfall, invigorating and revitalizing your senses.
Indulge in the unique and luxurious Curtain function, where water gently flows from the sides, creating a mini waterfall effect that will make you feel like you're showering in a luxurious spa. Let this gentle curtain of water envelop you, washing away your stresses and leaving you feeling refreshed and rejuvenated.
But that's not all - our shower system also features Body Jets that allow you to target specific areas of your body. With six 2" body jets that swivel 360 degrees, you have complete control over where the jets massage and pamper your body, melting away tension and leaving you in a state of pure bliss.
But our shower system doesn't stop at its incredible functions. We provide you with a complete shower set, ensuring that you have everything you need for the ultimate shower experience. The package includes a Shower Head with Built-In Speakers, a 7-Knob Thermostatic Mixing Valve for precise control over water temperature, a Spout for added convenience, a Hand Held Shower for versatility, a Holder and Hose for your convenience, and a Remote Control for LED Lights, allowing you to set the ambiance with vibrant, customizable lighting.
Cascada Showers is committed to delivering products of unparalleled quality and craftsmanship. Our shower system is meticulously designed to provide durability, reliability, and long-lasting performance, ensuring that you can enjoy a luxurious shower experience for years to come.
Take the first step towards transforming your showers into a sanctuary of luxury. Elevate your daily routine with the 23"x31" Luxurious Classic Design recessed LED shower system built-in Bluetooth speaker by Cascada Showers. Experience the perfect fusion of cutting-edge technology, indulgent features, and impeccable craftsmanship. Upgrade your bathroom, upgrade your showers, and embrace a world of pure relaxation and rejuvenation. Choose Cascada Showers - where luxury meets functionality. Click Here.